Ghirardelli Chocolate Bar
I was SO excited to find this chocolate bar without dairy! Soy milk saved my day with this one. I love dark chocolate.
Plus, I feel closer to the Ghirardelli brand since we visited Ghirardelli Square in San Francisco about a year and a half ago...
Archer Farms Black Pepper & Sea Salt Chips
These are awesome. I was so sad to learn that one of my all-time favorite chips - salt and vinegar - have milk! At least the ones I've seen so far. These salt and pepper ones are dairy free and very tasty.
Almond Milk
It's great and has calcium (which can be lacking in a dairy free diet). I can bake my own goods using this as milk. I've mostly had this milk with cereal but it's good and has been growing me - it's thicker than the skim or 1% milk I was used to, but seems to be alright!
So Delicious Yogurt
Of course I love the chocolate yogurt (with a hint of coconut = awesome), but also enjoyed the vanilla and blueberry flavors I've tried so far! Coconut milk is an awesome substitute for dairy milk.
So Delicious Ice Cream
This has grown on me and I think the coconut milk base makes it taste more fresh now to me than dairy ice cream. I've only tried this chocolate one, but I'm curious to try other flavors.
Kettlecorn
I have been loving this "kettle korn"(I feel awkward writing korn...) lately and it's dairy free too. Most at the grocery store have butter, so I'm thankful for this option. I like that it's slightly sweet and slightly salty at the same time too.
Tortilla wraps
I've been having fun with these - adding walnuts, crasins, hot sauce, mustard, or different salad dressings. I like the Archer Farms Whole Wheat Tortillas (dairy free).
Amy's frozen meals
I like that she makes dairy and gluten free options! Super easy and tasty.
Soup
I like soups for an easy lunch too - I just have to scour the ingredients to be sure dairy isn't hiding in there somewhere.
Market Pantry Oreos
Who would have thought oreos don't have dairy in the filling? Not healthy by any means, but it's nice that both Nick and I can share a snack that's dairy free.
Back to Nature Peanut Butter Cookies
So I obviously have a sweet tooth... these cookies are awesome and dairy free too.
Thomas Bagel Thins
These are one of the few breads I've found without dairy. I like them toasted with peanut butter and jelly.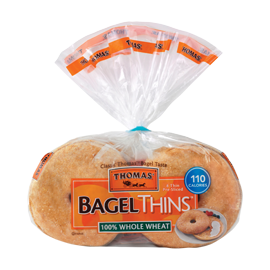 Larabar
The ingredients in these still amazes me. Obviously no dairy or weird ingredients lurking around in these tasty bars.
Rice Thins
These have grown on me too. Slightly salty and good when I need to get a quick yet filling snack.
Rice cakes
I like these lightly salted rice cakes - another easy snack when I need something quick and filling. Good when I need to take medicine with food too.
This is just a snippet as I learn what I can eat dairy free. Of course, fruits and veggies are game too! At restaurants, I've been doing mostly salads since it's easier to have dairy free options with salads. At some point when I get more comfortable with what all is dairy free, I may branch out when I'm out to eat, but at least wanted to share/document what I've found so far!
As you can probably tell, my cooking and baking has slowed WAY down since our move to MN, and even more with my diet change. SO many of my go-to recipes have cheese or milk or both (which is probably why I had so many more IBS symptoms eating them). I'll get back at it and start having fun in the kitchen again soon. I've started a dairy free board on Pinterest with recipes and dairy free ideas there too.
I like to leave posts with a little Pinterest encouragement lately - here's what I'm liking today.